We offer medication administration training courses online, which include Anaphylaxis awareness training and also a healthcare professional anaphylaxis training programme, emergency oxygen provider training and a medication administration course. These courses are suitable for Care Homes, Domiciliary Carers, Special Needs Schools, Chemists and Dispensers, Care Workers, Nurses, Home Carers and more.
All training courses are CPD Certified and each course is available with different CPD time credits, depending on the course completed and once you have successfully completed your online training programme you will be able to print your certification.
Each course comes with course materials, which are downloadable on registration and these can be used to follow the course structure as you progress through the training.
Click on the picture below to be taken to our online shop for First Aid Equipment.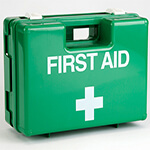 This medication administration course comes with 3 hours of CPD time credits and is ideal for care homes, domiciliary carers, special needs schools and more.
Follow the link below to for additional information regarding this course.
We offer online basic anaphylaxis and epipen training and also online anaphylaxis training for healthcare professionals. Select your required course below.
This emergency oxygen provider training course will teach you how to handle and provide emergency oxygen. This course is ideal for care home, scuba diving, confined space workers, or anyone who would like to gain emergency oxygen provider certification.
Please follow the link below for additional information.