Would you know what to do if there was a first aid incident within your home? To help you be prepared we are able to offer an online family first aid training course, that covers primary and secondary care subjects and is aimed at the needs of the family.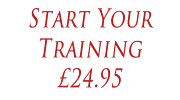 This course is cpd certified and is conducted using a video based training system, with first aid instructor led presentations.
All course materials are downloadable after you have completed the simple registration process, so that they can be used to follow the course content as you progress through the course. Each video can be paused, rewound to gain a better understanding of the course content and you will be able to print your certification on completion of the course.
Some of the subjects covered within this training programme are: scene safety, initial assessment, recovery position, adult, infant and child CPR, bleeding control and much more.
You can register and start training by clicking the "start your training" button above, or for a comprehensive description of the course content please see our Family First Aid Training page.